Jess & Keith Flaherty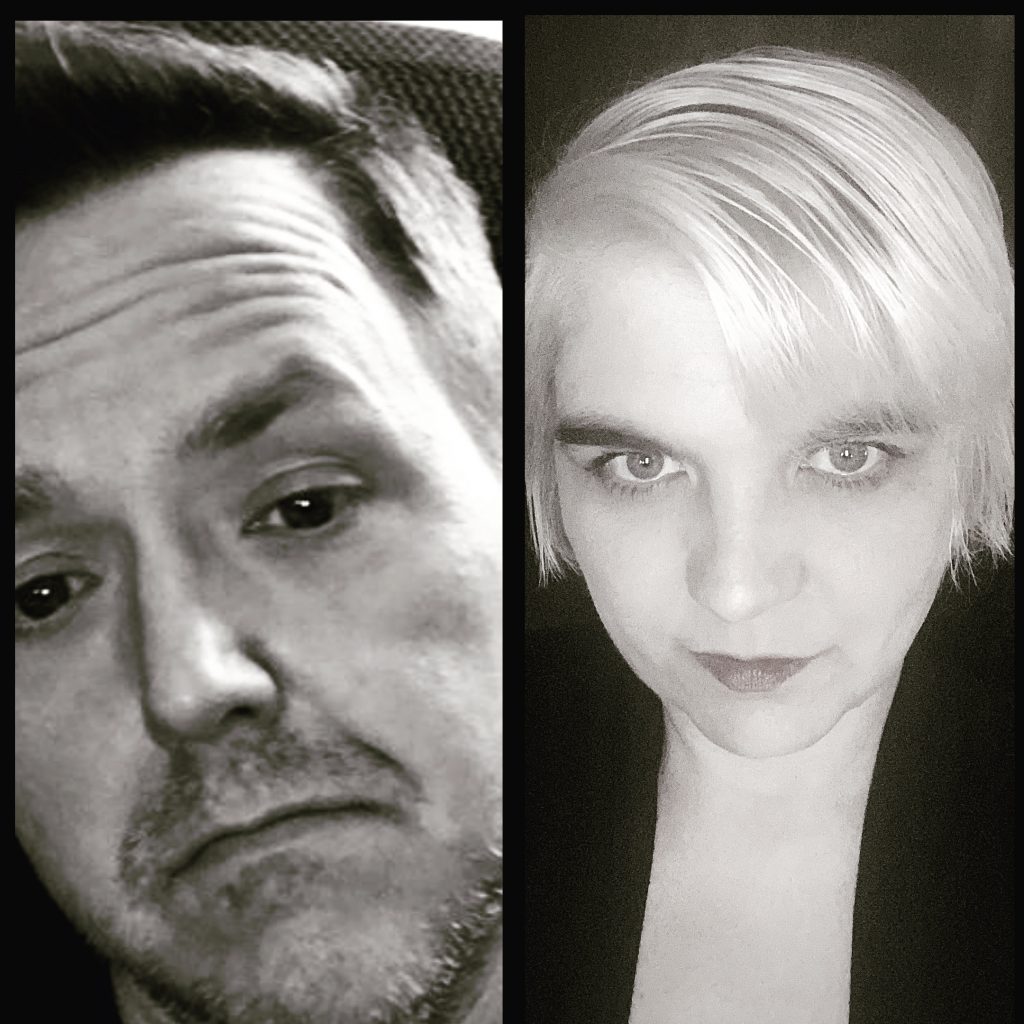 My featured authors this month are the collaborative husband and wife team, Jess and Keith Flaherty! Learn about their paranormal fantasy trilogy, their inspiration, and how they plot their novels right here.
***
Thank you so much for agreeing to this interview! I'm excited to learn more about your books and your writing approach. To kick things off, tell me a little about yourself.
Demonsrunlit is made up of two dedicated writers. There's me (Jess) and my husband Keith. We like to say we're one of those married couples TV sitcoms never get right. We've been together since 1995, and we're still absolutely gone on each other. Any marriage takes effort to maintain, but when you're still best friends who have fun, to the point where you're happy to co-author, after a quarter century, we figure we must being doing something right! We live in Vermont and have a little backyard farm in the works, as well as writing and art related small businesses. We have two kids, one who still lives at home, and the other, who didn't go very far afield, as he and his wife live next door.I'm a former special educator. I used to run a STEM/Project based cross-curricular classroom for kids with emotional disabilities. Think MacGyver and Bill Nye designed a classroom. More recently I spent time working in mental health as a vocational/educational specialist and program manager. Now, I'm focused on writing, marketing, and getting back to my visual art roots. My hobbies include painting, drawing, knitting, and making music, not to mention enjoying a good binge-watch and some marathon karaoke sessions. When the weather is more pleasant than it is right now, I also enjoy hiking. I'm a lifelong Vermonter, but I'd love to live some place where the weather is a bit warmer.Keith is a chef, who has also worked in food sales, infrastructure construction, and food service management. When we met, he was in the Army. He is also currently focused on writing, and the various small business ventures they are engaged in. He enjoys reading, writing, sculpting, crafting, and loves to play around with new cuisines at home. He also enjoys hitting the trails with me. Keith is originally from Queens, NY, but has lived in Vermont for many years. He, too, loves the area, but would also like to relocate for a milder climate at some point.
Sounds like you're both very multi-talented! That's fantastic! What led you to write fantasy?
I've been writing for as long as I can remember but was never able to commit to writing a novel. Keith hadn't done much writing prior to their co-writing journey but had been developing stories as a DM for Dungeons and Dragons since he was a teenager. Our first book, Always Darkest, started out of a fairly simple conversation. I was recovering from surgery and thinking about using the time to maybe give writing a book a try. Keith had recently read about a demon he found interesting while doing some occult reading. Ronove is a demon that appears in the Lesser Key of Solomon and Keith thought he'd make an interesting fictional character. We started talking it over and reading more about this intriguing demon. It wasn't long before we decided to give it a shot together and Always Darkest, and it's hero Ben Brody (aka Ronoven in Hell) were born. Shortly after that, our other hero Mal introduced herself and the first draft basically wrote itself in about three months. We've both been reading fantasy books since we were kids, and our love of fantasy was one of the things we connected over when we were first dating. I've always read and written paranormal and horror, along with some low fantasy. D&D was where Keith developed his storytelling skills. Writing paranormal fantasy was a very natural step for us. I do some writing outside of our series, but most of that falls under the umbrella of fantasy (still primarily horror and paranormal), too. For now.
Going along with that, what sub-genres of fantasy do you prefer to write?
We both enjoy urban and paranormal fantasy as far as writing goes. Modern settings are especially appealing. There's something satisfying about taking the mundane world around us and exploring layers that might not be seen or understood.
Do you write with a particular message or worldview in mind?
We tend to write with themes in mind. Our current series focuses on change, redemption, and self-determination. We believe in equality, equity, and social justice. We want to be true to ourselves in our writing, so we write things that support that. We don't mind leaving readers behind that disagree with us.
Those are bold and very relevant themes. What is your preferred writing style? Does it coincide with your reading preferences?
The Arbitratus Trilogy is written in the past tense, third person. It's a pretty traditional approach to fantasy, in terms of what we both grew up on. But we also play around with other styles depending on what we're writing. In terms of reading, we both prefer past tense, third person narratives.
How do you feel about a hero vs. a protagonist in fiction?
We both love a hero's tale. When we were younger (pre-kids) we did a lot of tandem reading and book discussion, sort of a couple's book club. Joseph Campbell's Hero With a Thousand Faces fascinated us, and continues to do so. In many ways The Arbitratus Trilogy is a hero's journey for Ben, a classic redemption arc. It's an archetype we enjoy. A strong protagonist who isn't a hero in the strictest sense can be fun, too, though. It really depends on the sort of story you want to tell. Both have their place.
Do you prefer a sympathetic villain or someone a reader loves to hate? Or is there another kind of villain you prefer to write?
Like the hero vs. protagonist, both can work. The Arbitratus Trilogy certainly has both.
That makes it a lot more dynamic, huh?
Tell me more about one of your published works.
Always Darkest is an award winning romantic paranormal fantasy Piers Anthony calls "A different story … a solid fantasy novel!" It's been described as Supernatural meets Good Omens with a dash of romance and divine chaos. Ben wants a vacation away from Hell, but Mal reveals a path to redemption instead. ‬Our favorite tag line is: On the run from Heaven and Hell, a demon becomes a hero. Always Darkest is extremely special to us. I always refer to our books and characters as our word babies. And Always Darkest was our first.
Sounds like a lot of fun!
What are you working on now?
We just released Book II, Before the Dawn. So, we're working on Book III, Fiat Lux. We're also in the middle of our yearly blog challenge called The Twelve Days of Ficmas. We tell twelve original stories in our paranormal universe, often featuring our series' characters over twelve days leading up to Christmas. We could start early and not put so much pressure on ourselves, but where's the fin in that?Are you traditionally published or do you publish independently? Why did you choose that path to send your books into the world?
We're blended authors. Our series is traditionally published through Crimson Cloak Publishing. But we've also self-published several in-universe collections and short stories. It's the best of both worlds.
Who are some of your favorite authors?
We have many favorites in common, like Tolkien, Robert Asprin, Dean Koontz (especially the Odd Thomas series), Tom Clancy, David Brin, and Patrick Rothfuss. I'm also a huge fan of Stephen King, Rex Stout, and Anne Rice's vampire and Mayfair series. I enjoy some non-fiction, but I tend to consume mine online. Keith reads a lot of David Eddings, and also enjoys non-fiction. He's a big reader of Richard Ketchum's military history books. We're big readers. We love them for the same reasons we love to write. The world isn't always the way we'd like it to be, and the hero doesn't always get more than a kick in the teeth. In fiction, we have a chance to see good triumph, love conquer all, and the hero ride off into the sunset. Good non-fiction makes us better writers by expanding our world.
Great choices! What are your writing habits?
I like to write on my laptop, usually on our couch with a really nice lap desk Keith got for me. Although, I'm not fussy. A decent amount of Before the Dawn got written on my phone in lines and waiting rooms all over Vermont and New Hampshire. I do prefer to write in my pjs and bathrobe, with a cup of coffee or my trusty water bottle by my side. I like to write to music. Always Darkest was written mostly to Flogging Molly because they're Ben's favorite band, and Florence and the Machine's Ceremonials. Shake it Out is where the titles for Books I and II came from. I always think of that as Ben's song. Book II was largely written to Johnny Cash's American Man albums and Devil Makes Three. The Twelve Days of Ficmas is being written to whatever is playing on Sirius XMs Alt Nation. Keith is a notebook and clicky pen guy. He prefers to write in silence, too. He almost always transcribes what he writes into a google doc for me to work with. He's also a coffee and water person. Our co-writing process is a little divide and conquer, a little active collaboration in which I do the writing after discussion, and a lot of talking about where we're at and what we're doing. The talking sessions are almost always to music. That depends on mood and environment, but alt rock and punk are mostly where we live.
I admire writers who can collaborate. It sounds intense!
Do you prefer to plot your books out in advance, or do you dive in and see where the story takes you?
We do some plotting during our collaborative conversations, but mostly the story decides where to take us. So, when people ask plotter or pantser, we often say we're more like plantsers. Writing on my own, I'm a total pantser. I just saddle up and ride the wild software and try not to get bucked off.
That rings really familiar to me! Do you enjoy writing plot-driven or character-driven stories more?
We're both fans of character driven stories. It's about people, connections, feeling. What happens is secondary to what growth or regression occurs because of it. We write to better understand our own humanity, and to connect with others striving to do the same.
I love it! What type of fantasy mediums do you most enjoy?
I think we're both equal opportunity consumers of all fantasy media. Books are always going to be our first love, but why limit yourself? Life is too short not to take it all in.
What destination in the world would you most like to visit?
We'd love to travel … everywhere. Before the Dawn has our characters on the run, living in an RV and in a lot of ways, that sounds like a ton of fun. It would be a cool way to see the US. We'd also like to travel to Europe and see the places our families originated. Ireland, Italy, France. We'd also like to visit Scotland, because Ben was once and ancient Scottish warrior. We'd like to walk where he walked in the realm of our imagination.
What is a fun quirk each of you has?
I'm a quirky person, so I'm told. When I was a kid, I talked in a British accent for a solid year. Now, I guess my tendency to like to dye my hair wild colors could be called a quirk. Keith's biggest quirk is probably that he prefers to write long hand in a digital world. He's very tech savvy (much more than I am in general) but ideas flow better for him on paper.
My hand aches just thinking about writing by hand! Haha!
In closing, what advice do you have for up-and-coming writers?
Write your first draft without editing. Just do it. Even if you think it's garbage. The only manuscript you can make better is the one that exists at all. Then, get yourself an editor. And listen to them!
Amen to that! I wholeheartedly agree.
Thank you again for taking the time to interview with me, Jess! I wish you every success with your continued writing endeavors!
To follow Jess and Keith's author journey, check out the links below!
Website:www.Demonsrunlit.com
Purchase Book One: http://mybook.to/alwaysdarkestbook
Purchase Book Two: http://mybook.to/book2beforethedawn
Instagram:www.Instagram.com/demonsrunlit
Twitter: www.twitter.com/jk_demonsrunlit
Facebook: www.facebook.com/jkf.demonsrunlit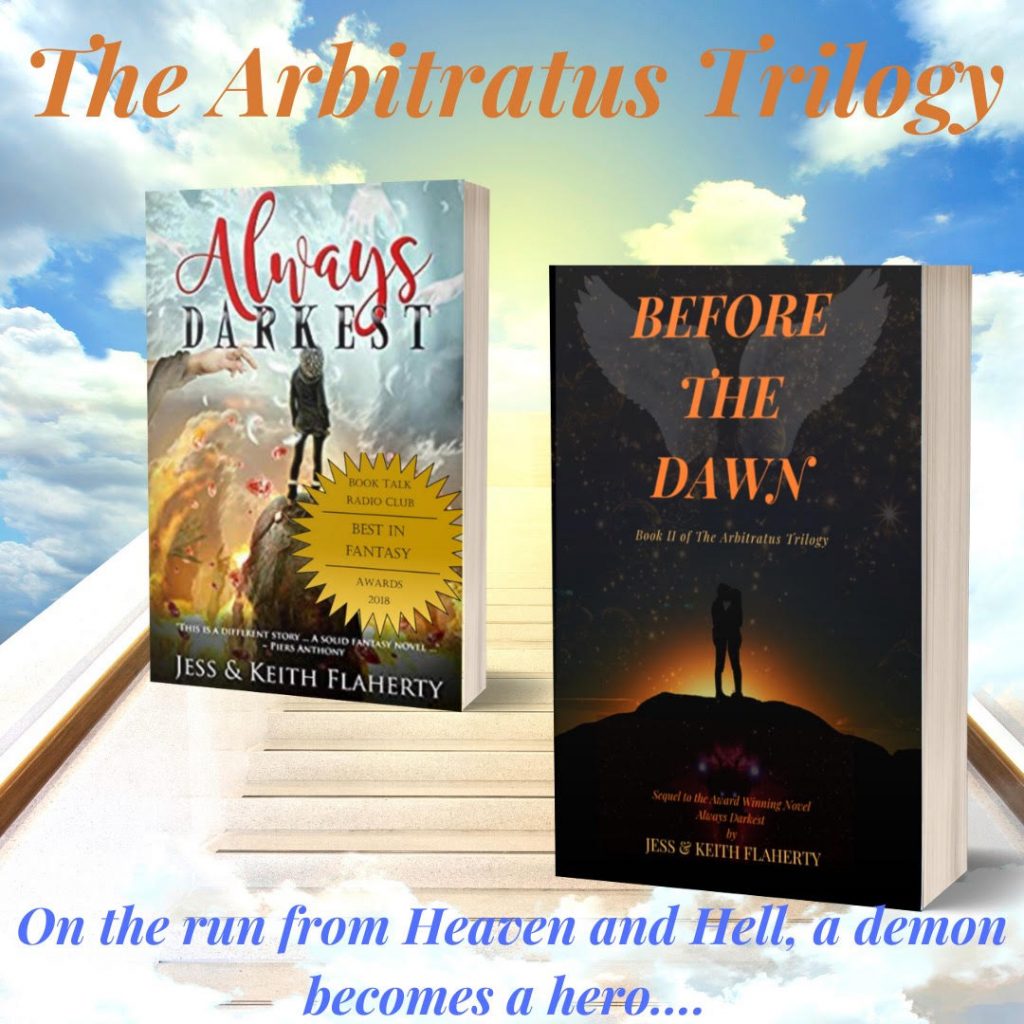 Author Spotlight #9: Jess & Keith Flaherty